Julia Chen
Licensed Acupuncturist and Herbalist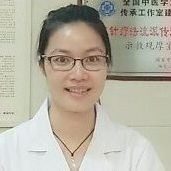 Junrong (Julia) Chen grew up in South China where her father worked as a physician. When she was young, Julia used to go to the clinic to watch him work. Her father combined Chinese and Western medicine to provide personalized treatment. And when his patients left the clinic, they were usually much happier than when they arrived. Julia learned from her father's dedication how important doctors are in helping patients gain comfort and confidence in dealing with their afflictions.
When Julia first observed her father perform acupuncture, she imagined the needles would frighten the patients. Instead, she was amazed to see that the needles brought pleasure and wellness instead.
After high school, Julia attended the Guangzhou University of Chinese Medicine, a prestigious university in China. She graduated with a 5-year degree in clinical medicine. Then, Julia worked as a physician for three years before attending Jinan University. There she got her master's degree in Integrated Chinese and Western Medicine. Afterwards, Julia moved to the United States and obtained her acupuncture and herbal medicine certification.
Julia has practiced under the supervision of several well-respected acupuncturists. Through diligent practice, she has grasped the essence of each teacher's unique method. Professor Chen Liguo taught Julia how to integrate traditional Chinese and Western medicine. Professor Zhuang Lixing passed on his expertise in applying acupuncture to nervous system disorders. And professors Jiao Shunfa (scalp acupuncture) and Li Xinwu (headache disorders) helped to boost Julia's ability to treat neurological disease.
Making use of her solid foundation in acupuncture, Julia has gained extensive experience treating a wide assortment of disorders. She has helped patients with pain, digestive issues, women's health, anxiety, beauty and sleep.
As Julia continues to gain experience, she observes that patients are becoming more and more afraid of pain. For most, "no pain, no gain" is no longer acceptable. And when patients feel at ease, outcomes are better.
Julia pays special attention to whether her patients are comfortable during treatment. Her unique approach uses fewer needles and causes less pain. And her treatments yield quick results and long-lasting effects.
In 2018, Julia founded Pleasant Wellness, a clinic that provides high-quality treatment in a warm and comfortable atmosphere. Her ultimate goal is to ensure all patients have a pleasant healing experience. And just like at her father's clinic, no matter how anxious her patients are when they arrive, they usually leave in a cheerful mood.
Hannah Li
Licensed Acupuncturist and Herbalist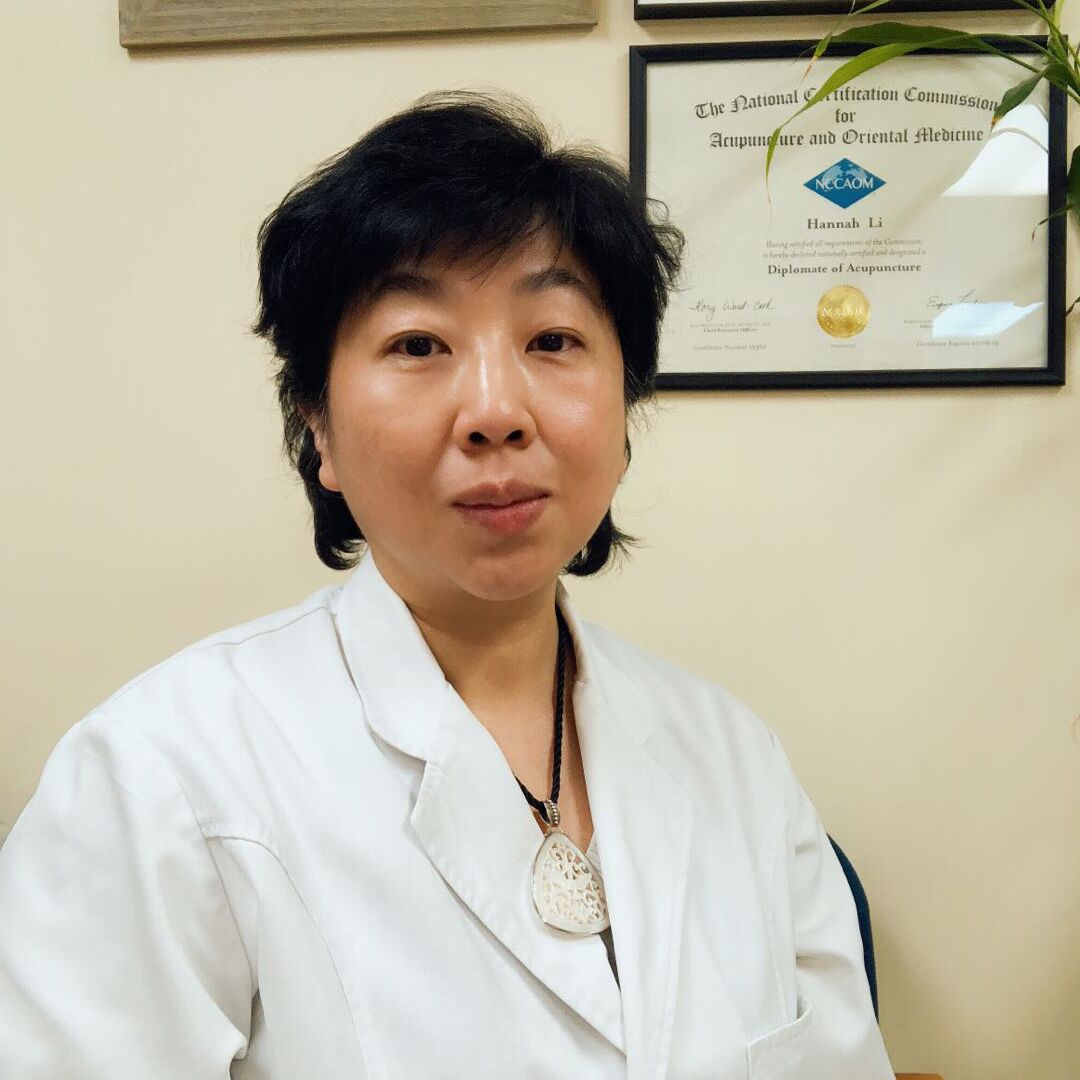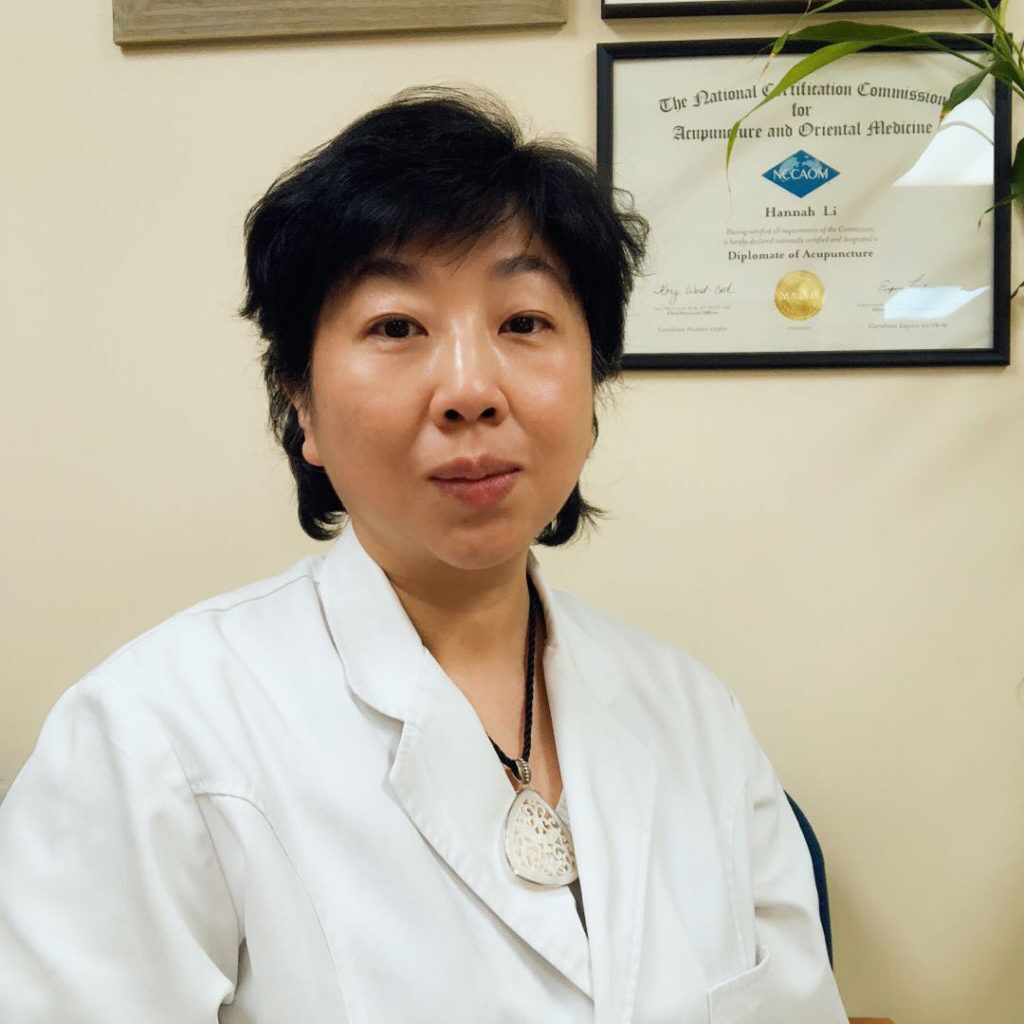 Huanyu (Hannah) Li is a Licensed Acupuncturist and Herbalist with a diploma from the National Commission of Acupuncture and Oriental Medicine (NCCAOM).
She has a bachelor's degree in Medicine from Shanxi University of Traditional Chinese Medicine. She also has a master's degree in Chinese Herbal Medicine from Shanxi Traditional Chinese Medicine Academy.
Hannah has been practicing acupuncture in the United States since 1999. Her practice focuses on using expertise in oriental medicine, acupuncture, physical therapy and Chinese herbs to improve the health and well-being of patients.
In addition to seeing patients in Wakefield, Hannah also practices acupuncture in Waltham.
Mingqiang Liang
Licensed Acupuncturist
Mingqiang Liang (Ming) is a licensed acupuncturist in Massachusetts with prior experience working as a Traditional Chinese Medicine doctor in China.
Ming graduated from Guangzhou University Of Chinese Medicine where he studied for 8 years. This university is world-famous and is the oldest Traditional Chinese Medicine university in China. During his first 5 years at the university, Ming completed a bachelor's degree in Traditional Chinese Medicine with a focus on acupuncture. He then received a full scholarship and went on to complete a 3-year master's degree in clinical medicine.
Ming has 10 years of experience in the medical field, including a one-year internship at Guangdong Provincial Hospital of Traditional Chinese Medicine and a 2.5-year residency at Zhongshan Hospital of Chinese Medicine.
During his residency, Ming focused on the treatment of severe bone fractures and related injuries. He participated in more than 1,000 surgical operations a year and provided Chinese medicine and acupuncture treatments to relieve pain for postoperative patients. Ming's experience as a surgeon and Chinese medicine doctor in China has given him a deep understanding of the structure of the human body.
Ming also focuses on applying acupuncture with Chinese medicine to treat psychological disorders such as insomnia, anxiety, migraines and facial paralysis. In his time practicing medicine in China, he participated in several research studies in this area.